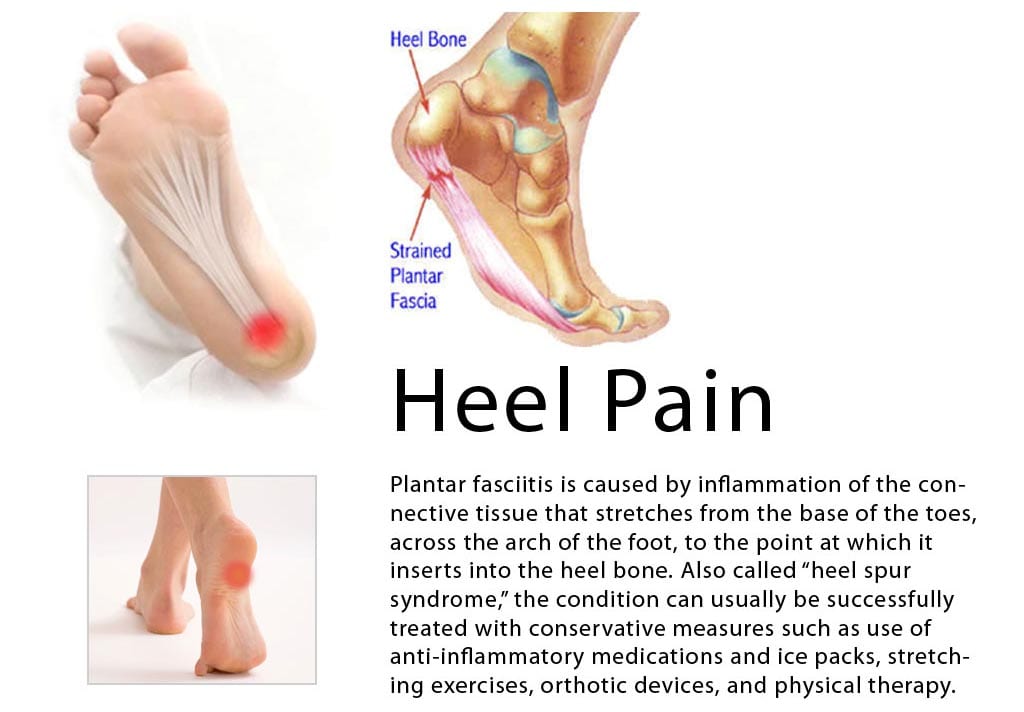 Overview
Plantar fasciitis is a poorly understood condition. There is little consensus among medical professionals about what causes the problem, and no treatments have been reliably proven to treat it. A number of theories exists for why plantar fasciitis develops, but the ineffectiveness of conventional treatments suggests
something
is missing. The plantar fascia is a band of connective tissue that runs along the underside of the foot from the heel to the toes. The fascia helps maintain the integrity of the arch, provides shock absorption, and plays an important role in the normal mechanical function of the foot.
Causes
The cause of plantar fasciitis is often unclear and may be multifactorial. Because of the high incidence in runners, it is best postulated to be caused by repetitive microtrauma. Possible risk factors include obesity, occupations requiring prolonged standing and weight-bearing, and heel spurs. Other risk factors may be broadly classified as either extrinsic (training errors and equipment) or intrinsic (functional, structural, or degenerative). Training errors are among the major causes of plantar fasciitis. Athletes usually have a history of an increase in distance, intensity, or duration of activity. The addition of speed workouts, plyometrics, and hill workouts are particularly high-risk behaviors for the development of plantar fasciitis. Running indoors on poorly cushioned surfaces is also a risk factor. Appropriate equipment is important. Athletes and others who spend prolonged time on their feet should wear an appropriate shoe type for their foot type and activity. Athletic shoes rapidly lose cushioning properties. Athletes who use shoe-
sole
repair materials are especially at risk if they do not change shoes often. Athletes who train in lightweight and minimally cushioned shoes (instead of heavier training flats) are also at higher risk of developing plantar fasciitis.
Symptoms
Plantar fasciitis and heel spur pain usually begins in the bottom of the heel, and frequently radiates into the arch. At times, however, the pain may be felt only in the arch. The pain is most intense when first standing, after any period of rest. Most people with this problem experience their greatest pain in the morning, with the first few steps after sleeping. After several minutes of walking, the pain usually becomes less intense and may disappear completely, only to return later with prolonged walking or standing. If a nerve is irritated due to the swollen plantar fascia, this pain may radiate into the ankle. In the early stages of Plantar Fasciitis and Heel Spurs, the pain will usually subside quickly with getting off of the foot and resting. As the disease progresses, it may take longer periods of time for the pain to subside.
Diagnosis
To arrive at a diagnosis, the foot and ankle surgeon will obtain your medical history and examine your foot. Throughout this process the surgeon rules out all the possible causes for your heel pain other than plantar fasciitis. In addition, diagnostic imaging studies such as x-rays or other imaging modalities may be used to distinguish the different types of heel pain. Sometimes heel spurs are found in patients with plantar fasciitis, but these are rarely a source of pain. When they are present, the condition may be diagnosed as plantar fasciitis/heel spur syndrome.
Non Surgical Treatment
Management options are usually conservative. Local injection of steroids, local anaesthetic may be useful to manage symptoms. Ultrasound-guided steroid injection has been shown to be effective in short-term (four-week) pain relief and reduced thickness of the plantar fascia at three months. A posterior tibial nerve block can be performed prior for a less painful plantar fascia injection. Specific plantar fascia stretching exercises performed daily have been shown to reduce short-term (8 weeks) and long-term (two years) pain. Other supportive measures include weight reduction in obese patients, rest, non-steroidal anti-inflammatory drugs (NSAIDs) and reduction of weight-bearing pressure (soft rubber heel pad, molded orthosis, or heel cup or soft-soled shoes).
Surgical Treatment
The most dramatic therapy, used only in cases where pain is very severe, is surgery. The plantar fascia can be partially detached from the heel bone, but the arch of the foot is weakened and full function may be lost. Another surgery involves lengthening the calf muscle, a process called gastrocnemius recession. If you ignore the condition, you can develop chronic heel pain. This can change the way you walk and cause injury to your legs, knees, hips and back. Steroid injections and some other treatments can weaken the plantar fascia ligament and cause potential rupture of the ligament. Surgery carries the risks of bleeding, infection, and reactions to anesthesia. Plantar fascia detachment can also cause changes in your foot and nerve damage. Gastrocnemius resection can also cause nerve damage.